Quick Setup
1. Download the app
Scan the QR code below, or search Alphahom in the Apple App Store or Google Play Store. Create an account in the app, or login if you already have one.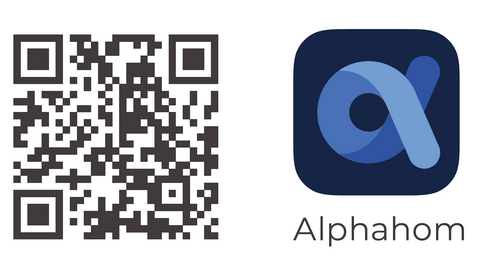 2. Charge and turn the power on
Please charge the camera first with the included USB-C charging cable. The camera will automatically go into Bluetooth connection mode when powering on, with a beep and blue flash of the indicator. Please add it within the next 5 minutes, or it will enter battery saving mode (You can turn it off, and turn it on the camera again to restart).
Open the Alphahom app and scan the QR code on the bottom of the camera. If you have already added other devices to the app, tap ADD ACCESSORY on the settings page. The app will list devices scanned by Bluetooth. Click to connect, the camera will beep and the indicator will switch to blue solid.
4. Connect it to Wi-Fi
Select the Wi-Fi (2.4 GHz) network you want connect the camera to and enter your Wi-Fi password. After successfully configuring the network, the camera will beep and the indicator light will go out.
Place it at your desk or wall-mounting, ready to use. 
Download A Quick Start Guide 
Watch A Video to Set It Up 
App Permission 
Your security and privacy is core. We take it seriously to protect your personal informations. The app will request the following access based on some certain functions, and you have the rights to refuse or cancel the authorizations.
| | | | | |
| --- | --- | --- | --- | --- |
| Access  | Functions | iOS | Android | Reference |
|  Notifications | Device information and system status messages can help you manage your device and protect your security. | Y | Y | |
| Critical Alerts | When your iPhone is in Silent or Do Not Disturb mode, you can still receive audible notifications of emergencies. | / | Y | |
| Bluetooth | To configure devices via Bluetooth. | / | Y | |
| Location |  To configure devices via Bluetooth and Wifi (For android, location access is required to using Bluetooth.) |  Y |  Y | |
| Camera | To scan the QR code of devices/families, or set avatar. | Y | Y | |
| Photos (iOS) / Storage(Android) | To access the album to add devices/families, or set avatar. To take screenshots or records of the monitoring screen. | Y | Y | |
| Microphone (iOS) / Recording (Android) | To enable dual-way talking feature of cameras. | Y | Y | |
| Contacts | To add SMS Contacts quickly. | Y | Y | |
Contact us